In the green building market, Steel SIPs (Structural Insulated Panels) have become the gold standard for high-end, energy-efficient homes.
Structural Insulated Panels (SIPs) are strong and energy-efficient building panels with rigid foam insulation between two structural facings, such as oriented strand board. According to Structural Insulated Panel Association, SIPs are one of the most airtight and well-insulated building systems available, making them an inherently green product. With the help of custom design, computer-aided technology, and factory manufacturing, SIPs can save time, labor, and energy during construction.
Our SIPs Construction Process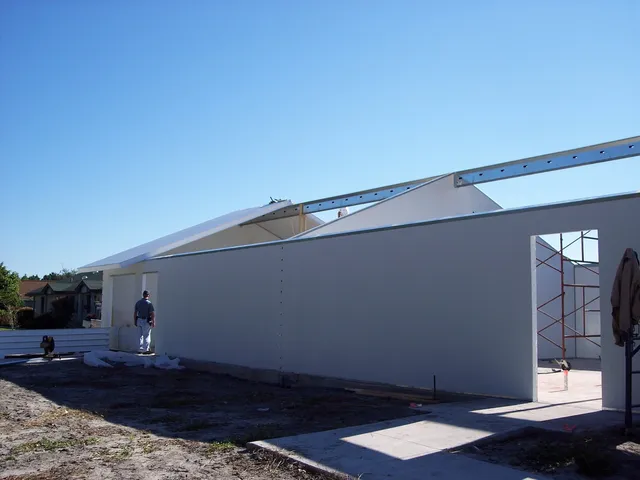 SIPs Green Benefits
SIPs construction generates less waste because the panels are precisely manufactured in the factory to meet specific requirements.
SIPs save an estimated 30% in job-site waste.
The production of Expanded Polystyrene (EPS) SIPs uses 24% less energy than comparably-rated fiberglass insulation.
Scrap EPS can be recycled.
Steel SIPs are produced from recycled materials.
SIPs Health Benefits
The airtight building envelope of a SIPs-built home limits the entry of air pollutants and toxins, offering better air quality.
The materials used to manufacture SIPs meet stringent indoor air quality standards, minimizing or eliminating the requirement for an air purifier.
Fewer pesticides are needed as steel SIPs do not require termite treatments.
Steel SIPs are less prone to rot, mold, and dust mites.
SIP Roofs
Reduces framing time.
Increases energy efficiency
Allows for complex roof designs in less time due to technology and software advancements
Benefits of SIPs
Construction
Save labor and energy costs with shorter construction time.
Save up to 55% in labor costs.
Steel SIP walls are erected straight, creating an airtight building envelope – leading to more energy savings.
According to Forbes, Steel SIPs provide an exterior envelope that is 15 times more airtight.
Building with steel SIPs results in additional energy savings due to the required smaller heating and cooling systems. The Department of Energy estimates a 20% savings when a home is properly insulated, while a home built with steel SIPs can reduce energy use by up to 40%-50%.
Stronger than standard wood-frame construction, which can bow and weaken due to moisture and termites.
SIPs offer flexibility in design and can be fabricated to fit most building designs.
Available in a variety of thicknesses and R-values.
Easier to meet local/state green building requirements and tax-incentive programs.
No additional insulation is needed.
Save 20%-30% on framing labor.
Electrical installation is 20%-30% faster.
No bowed lumber.
Termite resistant.
Less prone to mold and dust mites.
The maximum weight load that Steel SIPs can withstand is 20%-30% stronger compared to traditional wood-framed construction.
Steel SIPs can withstand hurricanes and tornadoes.
Available in longer lengths up to 53 feet.
Know the specifications of SIPs
SIPs
Frequently Asked Questions
What is the average cost of a house per sqft.?
Varies due to many factors. Compared to conventional building methods, material costs are about 5-10% higher. Labor costs, however, are significantly lower for erecting the panel home, possibly 30-50% depending on geographic location and complexity of design.
Can I modify one of your plans?
Like any plan, modifications can be made. Our in-house design team will do so on a time-available basis. Or you may have an independent drawing done and submit it to us for approval and a quote.
What are the payment requirements?
All residential projects are considered custom
manufacturing, and subject to a 50% deposit with order, balance COD.
How much will it cost me to finish the home?
These costs vary greatly by geographic area, and the choice of interiors, subcontractors, materials, etc.
How is electricity and plumbing supported in a Sterling home?
Electricity: We recommend the exterior wall and roof panels be "furred out" on the inside with 1.5″ metal channels or 2x wood framing. This allows electricians to surface mount equipment and wires using conventional parts and techniques. We do not recommend putting chases (horizontal and vertical holes cored out of the foam at certain intervals) into the panels. This weakens the panel and reduces its energy efficiency.
Plumbing: We recommend "wet walls" be kept away from exterior walls, if at all possible, otherwise you will – have to "furr-out" the wall to accommodate the larger
drain lines. Supply lines can be run within the 1.5″ space the metal furring channels create.
Can any foundation support a SIP's home?
Yes.
How are SIPs (Structurally Insulated Panels) connected to the foundation?
Panels are connected by a perimeter base channel fastened with concrete anchors.
What type of external finishes can I have on my home?
Any traditional finish including stucco and siding.
How is the inside of a SIPs home finished?
Gypsum wallboard is a code requirement on the interior of the home. Gypsum wall board, cabinetry, and trim are not included in an SIPs home package.
How do SIPS stand up to high wind speeds?
Panels are inherently stronger than conventional framing. They are also extremely strong in racking and shearing, which are the primary issues with seismic and wind load calculations.
Where can I go to see a SIP's house?
There are several locations available. Please
contact our office for a list of locations.
What makes metal panel construction resistant to damage from hurricane winds?
If you have been to or seen pictures of an area damaged by a hurricane or even just high winds, you will notice that a great deal of the damage consists of partially removed roof finishes and blown-out eave soffits. The damaged roof finish starts the roof leaking
causing additional damage to the interior finishes like drywall and woodwork. The damaged soffit lets the moisture in, but also allows the wind to enter the inside of the roof. At this point, the roof is in jeopardy
of being torn apart piece by piece as the pressure of the wind acts on the many sheathing panels and framing members, looking for a weak point. With metal panel construction, none of this happens. The metal skin on the top side of the panel acts as
an irremovable, integral moisture and vapor barrier, blocking any rain damage after the roof finishes are blown off. The metal skin on the underside of the panel as it passes over the wall to create the eave is waterproof and virtually indestructible, the wind has nothing to grab hold of and it cannot enter the home
to cause extensive damage.